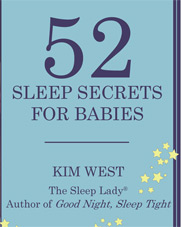 Kim West
Subject: Parenting
Date Published: May 20 2008
ISBN: 0979824842
Countless new parents saythey were unprepared, they wonder why they were never told that sleep could be so difficult to get, that their baby would not effortlessly learn to put him or herself to sleep independently.
They wait …. they pace, they bounce, they rock, they feed, in hopes of elusive sleep. They call, write and ask for magic or "secrets" to help their babies sleep. "What's the secret, Sleep Lady®?" they plead.
Now, Kim West, The Sleep Lady ®, renowned author of Good Night Sleep Tight, provides anxious parents with simple tips and tricks in handbook form.
$9.95