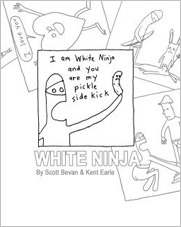 Scott Bevan and Kent Earle
Subject: Humor / Cartoons
Date Published: Apr 01 2008
ISBN: 0974380695
What are White Ninja Comics?
White Ninja Comics are not for the weak of mind. They are a brilliant satirical commentary on controversial worldly issues.
They can be enjoyed on many levels. Scholars, Philosophers, and the like, who possess the intellect to analyze and break down the comics to their hidden, and often devious, roots, will enjoy White Ninja to the fullest degree. Others, like you and I, however, can still enjoy the comics for their light-hearted surface humor and funny drawings.