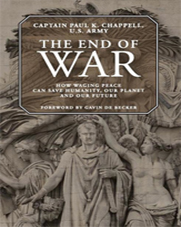 Paul K. Chappell
Subject: Peace
Date Published: May 18 2010
ISBN: 978-1-935212-11-9
Building on the powerful argument for peace laid out in his first book, Will War Ever End, Paul K. Chappell now explains in detail how together we can end the wars between countries, our ongoing war with nature, and the suffering in our hearts.
From the foreword by Gavin de Becker:  Gandhi said, "The machineries of governments stand between and hide the hearts of one people from those of another." Paul K. Chappell reveals many hearts to us, by revealing his own. He is a soldier and a warrior, and a crusader for peace. The road to peace is not a straight one, he explains; it is like a vine: it will have many twists and turns on the way. He understands that many times in the past, people have put all their faith in waging war as the best way to defend themselves. However, in a world that every day becomes more interconnected and fragile, Paul shows how the power of waging peace gives us all a more effective and reliable way to defend ourselves.
"Paul K. Chappell has transformed my way of thinking about war and peace."
- Lt. Col. Dave Grossman, US Army (ret.), author of On Killing, and Director of the Warrior Science Group
"I am certainly in agreement with so much of what Paul K. Chappell has to say. His values are truly humane and admirable."
- Howard Zinn, historian, activist, author of A People's History of the United States
$12.95